Writings
Writing is an important part of who I am. I've been writing screenplays, teleplays, novels, graphic novels, non-fiction, and short stories since around puberty. In the early years of writing, it was mostly just a form of escapism and exercising my imagination, but as I got older I started to expose more and more of myself on the page. It was a cumulation of all the things that fascinated me, moved me, or haunted me, seeking release, or a form of manifestation. Some things can't be expressed by static images, music, or moving pictures, and that's when writing becomes the only outlet. As a reader and as a writer, I favor storytelling that's highly entertaining as well as thematically compelling, combining imaginative and thrilling qualities with emotional and intellectual resonance.
Professionally, I have worked as creator and writer for animation, film, comics, published nonfiction, written articles for magazines and websites, and done some copywriting for advertising.
---
Here are some storytelling tips I've shared in past blog entries:
Having themes in your story is not enough–they must resonate - Ever wonder why even though some stories have defined themes, they just didn't resonate with you?
Mapping out character and faction motivations and relationships with Excel - Here's how I brainstorm and organize the characters and factions in my stories, detailing their motivations, inner and outer conflicts, personalities, and how they relate to one another.
Hierarchy of conflicts in storytelling - This is the system I use to organize the hierarchy of conflicts in my storytelling.
Treat factions like characters and give them arcs too - A lot of writers like to emphasize how important it is to have character arcs, but I have never heard anyone mention faction arcs, which I think are important too.
Writing relatable Mary Sues with depth - Mary Sue (impossibly perfect characters who are embodiment of author's wish-fulfillment) is one of those storyteling problems that gets mentioned a lot, but there is a way to write such a character with depth.
---
Here are the various published works I've done for films, animation, TV commercials, magazines, websites, as well as some works-in-progress I'm currently working on:
Books
Promise (novel) - A bittersweet, modern fairy tale about love, faith, and sacrifice. This is the story I've been working on in different forms since 1998. It started as an idea for a graphic novel, then was written as a short story, then went into development as an animated short film (but funding fell through), then was planned as a multimedia novel, and now finally, being written as a novel.
Darkness Falls (novel) - An epic urban fantasy series that explores sociopolitical and philosophical themes through the lens of the supernatural. If you imagine what our world would be like if magick and the supernatural were real, then imagine how the world powers and different government agencies, corporations, organized crime, and civilians would utilize (or be corrupted by) those powers, then you'd have a good idea what the series is about.
Silent Storm (novel) - A psychological supernatural thriller that examines the relationship between obsession, illusions, happiness, and sacrifice. I've been working on this one on and off since around 2001.
Undead Souls (novel) - A post-apocalyptic series that explores the process of rebuilding civilization after a complete collapse, and whether it's possible to avoid the mistakes from the past.
Waiting For Snow (novel) - A heartbreaking yet hopeful story about the friendship between a lonely little girl and a man who's lost everything in his life.
Enchanted (graphic novel series) - A dark fantasy series I created, wrote, and illustrated for almost 4 years (1994-1998), published by Sirius Entertainment. You can see some of the artwork and interior pages from the series on this page.
d'artiste: Digital Painting Master Class (non-fiction) - I co-wrote a book on digital painting techniques with Linda Bergkvist, John Wallin Liberto, and Philip Straub, published by Ballistic Publishing.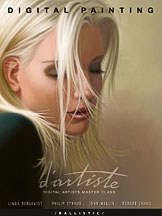 ---
Film
bLend (feature film) - bLend is a crime drama that uses a bank heist to explore racial relations. The film indulges racial stereotypes, then destroy them with a shocking plot twist that will forever change the way you feel about those stereotypes.
What Dreams Are Worth (short film) - A short film idea I submitted to the Atom Films competition. While living in China, I experienced classism in such a way that was completely different fom the United States, and that observation became the inspiration.
Killing of Thy Love (short film) - Another short film idea I submitted to Atom Films competition. The idea for this film was inspired by all the unhappy marriages I see around me, exploring why some couples fight with such unforgiving intensity while saying and doing things to purposely hurt each other.
Cathy Morgan (feature film) - An independent feature film I worked on as associate director of photography, storyboard artist, and contributing screenwriter.
Bear's Adventure (student film) - My brother Michael's student film when he was studying at UCSF.
---
Animation
Akihabara@Deep (TV series) - I was invited by John Shiota, CEO of Polygon Pictures (Tokyo, Japan) to write a treatment on spec for their upcoming new TV series produced in collaboration with Nickelodeon Television (to be aired in the U.S. and Japan). Akihabara@Deep was already an established I.P. (it was a manga and also a feature film), but the new TV series was aimed at children, so I was asked to rewrite the premise and characters for a younger audience. In the end, Polygon Pictures liked my treatment the most out of all the submitted treatments from various writers (they told me mine was the most exciting and powerful); however, Nickelodeon felt my take on the I.P. was still a little too mature for the 6~11 yr-old demographic. I can't say I agree with them on that point, because the themes I touched upon in my version are the kind of stories and characters that I personally would've been fascinated by as a child. I'm glad Polygon Pictures liked my writing the most, but it would've been even cooler to actually get the gig. Polygon Pictures stressed that they really did like my treatment and will contact me if there are any suitable future projects they'd want me on as a writer.
Wings of Promise (TV series) - I was asked by the studio owners to create a TV series for Promise. Since Promise is a self-contained story, I really had to think hard about how I would make a TV series out of it that felt like a natural continuation of Promise.
Scythe Wolf (TV sereis) - One of my responsibilities at Optidigit was to create intellectual properties that could be used to get funding for future projects. Scythe Wolf is one of the TV series I created and pitched to investors and Animation Superpitch 2003 competition. It's an action/adventure/drama set in a fantasy Chinese martial chivarlry world.
Vagrant Star (TV series) - Vagrant Star was one of the projects we pitched at the Animation Superpitch 2003 competition, where winners get funding for the entire TV series. I initially came up with premise and the characters, but asked Steven Stahlberg to co-write it with me because I felt we had a lot in common. Steven and I are both very proud of Vagrant Star, and we had a blast writing it. Essentially, Vagrant Star is an intergalactic roller coaster ride of action, adventure, comedy, and romance. If you like Firefly and Cowboy Bebop, then you'll probably enjoy Vagrant Star.
Tellurian Sky (feature film) - An epic sci-fi/fantasy animated feature film about what happens when humanity betrays itself out of fear and selfishness, and the brave few who have the courage to redeem those mistakes and fight for a better future.
The Legend of Hang Tuah (TV series) - Hang Tuah is a Southeast Asian legendary hero, and while working as writer/director/art director at Optidigit, I was responsible for creating a TV series based on the legend of Hang Tuah. This version I wrote is the one that was shown to both government and private investors.
---
TV Commercial
Ayam Brand (TV Commercials) - Ayam is the largest canned-food product manufacturer in Southeast Asia, and we (when I worked at Optidigit/Android Blues) were working on two different CG animated commercials for them--one for the Malaysian market, and the other for the Singapore market. I was the writer/director/art director for the project, and responsible for coming up with ideas, pitching them to the client, and directing them.
---
Articles
Top 10 tips for becoming a better artist - These are the top ten tips I have for anyone who's serious about wanting to become a better artist (and I guarantee some of them are not what you already know, or have even thought about before).
Why 3D artists want to learn 2D - In this article, I give compelling reasons why it's a really good idea for 3D artists to learn 2D drawing and painting, and the profound impact it will have on them as visual artists and also their 3D works.
I wrote two articles on for Gamasutra / GameCareersGuide years ago.

The first one was on art directing for video games, and it delves into the nitty gritty of what an art director actually does from day-to-day, the different types of art directors (some are more like managers, and some are very hands on in the art production), and what qualities a good art director should have.
| | |
| --- | --- |
| | The second article was top tip for game artists who are working professionally in the industry. You can read it by clicking on the thumbnail image below: |